Class VLUniformNoise.TVLUniformNoise
From Mitov Wiki Doc
This is a Beta Read Only version of this page. Please review and send recommendations to mitov@mitov.com. We will enable the editing as soon as we are happy with the overall Wiki site.
Package: VideoLabPkg
Unit: VLUniformNoise
Inherits: TVLBasicNoise
Syntax
Delphi:
type TVLUniformNoise = class( TVLBasicNoise )
C++ Builder:
class TVLUniformNoise : public TVLBasicNoise
Visual C++ (MFC):
class CTVLUniformNoise : public CTVLBasicNoise
C# (.NET):
public ref class UniformNoise : Mitov.VideoLab.BasicNoise
Summary
Adds Uniform Random noise to the image.
Description
Use this component to generate Uniform Random samples with uniform distribution and adds them to an image data.
If the inpt pin of this component is not connected, the component will work as video generator.
Diagram: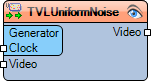 Example:
| | |
| --- | --- |
| Original Image: | Uniform Noise: |
| | |
Properties
Published
Properties
Published
Properties
Published
Methods
Public
Properties
Published
Properties
Public
Methods
Public
Pins
Properties
Published
Properties
Published