Class SLWaterfall.TSLWaterfall
From Mitov Wiki Doc
This is a Beta Read Only version of this page. Please review and send recommendations to mitov@mitov.com. We will enable the editing as soon as we are happy with the overall Wiki site.
Package: SignalLabScopePkg
Unit: SLWaterfall
Inherits: TSLBasicWaterfall
Syntax
Delphi:
type TSLWaterfall = class( TSLBasicWaterfall )
C++ Builder:
class TSLWaterfall : public TSLBasicWaterfall
Visual C++ (MFC):
class CTSLWaterfall : public CTSLBasicWaterfall
C# (.NET):
public ref class Waterfall : Mitov.PlotLab.BasicWaterfall
Summary
Visible waterfall for representing Real(double) data.
Description
Use this component to visualize floating point data as waterfall.
Diagram: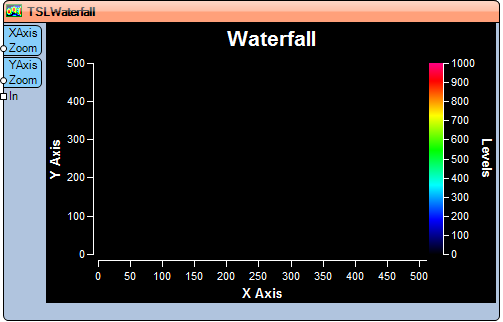 Example: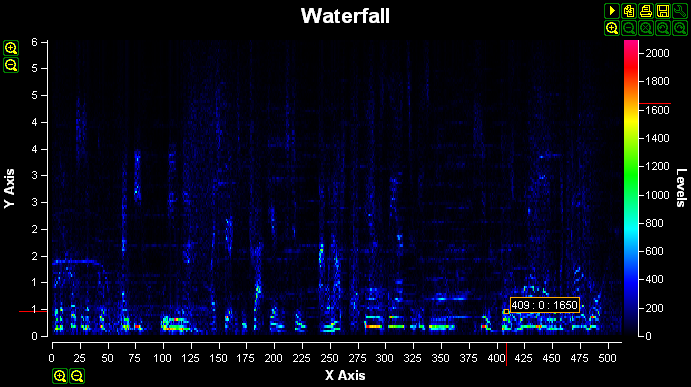 In Visual C++ you can instantiate the component by using the Open method:
  VCL_InitControls( m_hWnd ); // Call this function once before creating any visual controls!

  CTSLWaterfall SLWaterfall;
  SLWaterfall.Open( m_WaterfallDisplay.m_hWnd );

Properties
Published
Public
Methods
Public
Pins
Properties
Published
Methods
Public
Properties
Published
Public
Methods
Public
Events
Properties
Public
Methods
Public